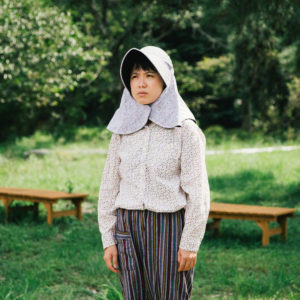 Chika Usui
かかしぐらふぁー・かかしくりえいたー
奥播磨かかしの里親善大使
とある限界集落に佇む人間そっくりのかかしたちと出会ったことをきっかけに、かかしと一緒に自らが映り込むセルフポートレート撮影を開始する。その後、奥播磨かかしの里のかかし制作者に直談判をし弟子入り。自らの分身となる"かかしのチナちゃん"を制作。
現在は世界でただ一人のかかしぐらふぁー・かかしくりえいたー、また奥播磨かかしの里親善大使として、チナちゃんと共に日々奮闘。野山を駆け回りかかしたちと戯れている。
日本が抱える過疎化問題を写真を通してポップに切り込み、見た人が明るく楽しくなるような写真をモットーに制作に取組んでいる。
PROFILE
1988年 6月8日 福岡県北九州市に生まれる。双子座の0型。
2000年 小学6年生の時、パラリンピックの映像をテレビで見て感動、将来は義肢装具士になると決める。三味線を習い始める。
2001年 中学時代は陸上部に所属。長距離を専門とし、駅伝大会やロードレースに出場。
2004年 県立高校普通科へ進学。マネージャーとして陸上部に3年間所属。
2006年 母急死。
2007年 高校を卒業後、義肢装具士を目指し熊本の専門学校へ入学。
2009年 アルバイト代を貯め、一眼レフカメラを買う。熊本での学校生活や友人とのルームシェアの様子を撮る。
2010年 義肢装具士国家資格取得。地元北九州へ戻り義肢装具士として働き始める。友人の結婚式、子供を撮ったり週末にはカメラを持って出かけるようになる。
2015年 諸事情により家を失う。一家離散。
2016年 日本写真映像専門学校 フォトファイン学科 入学
2017年 日本写真映像専門学校 フォトファイン学科 卒業 フォトマスター検定2級 合格。兵庫県姫路市の写真館に勤めた後、結婚。11月より写真家である夫とともに見聞を広めるべく東南アジア一周旅をする。
2018年 3月下旬、マレーシア・カンボジア・ベトナム・ラオス・タイ・スリランカ・台湾と約5ヶ月、7カ国の旅を終えて帰国。
AWARD
2019年 KYOTOGRAPHIE Paris Gallery First Floor Award
2019年 KYOTOGRAPHIE KG+SELECT 12 Artists
2018年 御苗場2018 Wonder Foto Day賞
2017年 明治安田生命 マイハピネスコンテスト 入選
2017年 PHOTO IS 50,000人の写真展 2017 心に響いた100選 (野口健 選)
2016年 APAアワード2017 入選
Scarecrow photographer & creator
Goodwill Ambassador for "Okuharima Scarecrow Village"
One day, I met many scarecrows who looked exactly like people in the marginal settlement, and I started shooting self-portraits with them.
After that, I directly talked to the only one scarecrow artisan in "Okuharima Scarecrow Village (Himeji, Hyogo pre, Japan)" and became his disciple. I asked him how to make scarecrows and I created a scarecrow that it looks just like me.
I named this scarecrow "Chinatsu," another way to read Chinese characters of my name "Chika(千夏)."
I'm now the only Scarecrow photographer and Scarecrow creator in the world. And as a Goodwill Ambassador for "Okuharima Scarecrow Village", I'm daily efforts with Chinatsu.
I'm taking photos about depopulation problems in Japan. But I'm working on creating photos that will make the viewers happy and happy.
It is true that this is a serious problem for Japan, but I would be happy if I could create an opportunity to attract as many people as possible through my photos.
PROFILE
1988. – Born in Kitakyushu, Fukuoka Prefecture in Japan on June 8. Zodiac sign is Gemini. Blood type is O.
2000. – during my sixth grade in elementary, I was moved by the video of Paralympic Games on TV and decided to become a prosthetist and orthotist in the future. I also started learning shamisen this year.
2001. – I belong to the track and field club of my Junior High school.
2004. – I entered high school.
2006. – The sudden death of my mother.
2007. – Graduated from High school and entered a vocational school in Kumamoto to become prosthetist and orthotist.
2009. – I had a part-time job and bought a single lens camera. I started taking photos of my school life in Kumamoto. I shared a room with my friends during my stay there.
2010. – Passed the national qualification to become professional Prosthetist and Orthotist. Returned to Kitakyushu and started working as a Prosthetist and Orthotist. At the same time I also started taking photos of my friends' weddings and children.
2015. – Lost our house and our family decided to live separately.
2016. – Entered Japan Institute of Photography and Film Photo fine subject.
2017. – Graduated Japan Institute of Photography and Film photo fine subject and obtained a Photomaster certification for second grade.
Within the year, I started working at a photo studio in Himeji City, Hyogo Prefecture.
I got married as well and traveled around Southeast Asia with my husband who is also a photographer.
2018. – In late March, We have visited Malaysia, Cambodia, Vietnam, Laos, Thailand, Sri Lanka, Taiwan in about 5 months. after traveling seven countries we came back to Japan.
AWARD
2019. – KYOTOGRAPHIE Paris Gallery First Floor Award
2019. – KYOTOGRAPHIE KG+SELECT 12 Artists
2018. – Wonder Foto Day Award
2017. – Meiji Yasuda Life My Happiness Contest Selected
2017. – PHOTO IS 50,000 photo exhibitions 2017 100 selections that resonated with the heart (Ken Noguchi Election)
2016. – APA Awards2017